Pot Pourri
Too many cooks spoil the broth!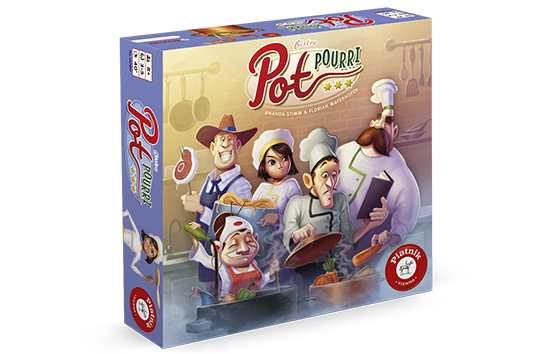 Gustav Germ, the famous gourmet critic, roams around town handing out his coveted gourmet stars.
This is your change to show off your cooking skills and show off the most delicious dishes.
But unfortunately, there are not enough cooking pots for everyone!
Now it's time to cleverly distribute your ingredients and hope that your own creations will be cooked as completely and true to the original recipe as possible.
If only the pesky pot lid were not constantly hiding the view of the ingredients…

Easy to get started, intuitive rules of the game: get ingredients or cook?
Shared cooking pots ensure unintentionally creative recipe creations!
With 3D pot lid and 5 cookbooks to set up!
Incl. menu card to read all recipes!